Electronic products play a great role as the media in the information age,The electronic products often seen in the market include watches, smart phones, telephones, televisions, video recorders, earphones, projectors, computers, cameras, etc. All these electronic products have one thing in common: fragile, easy to break,easy to scratch,easy to into water, etc. if the traditional foam board, tile plate, pulp molding filling are used, the transportation cost is not only high, but also the protection is not in place.
How to solve these puzzles?
The emergence of Sunshinepack new environmentally friendly packaging - air column bags and inflatable bags has perfectly integrated into the packaging industry of electronic products, and it is a "star" in the packaging industry of electronic products.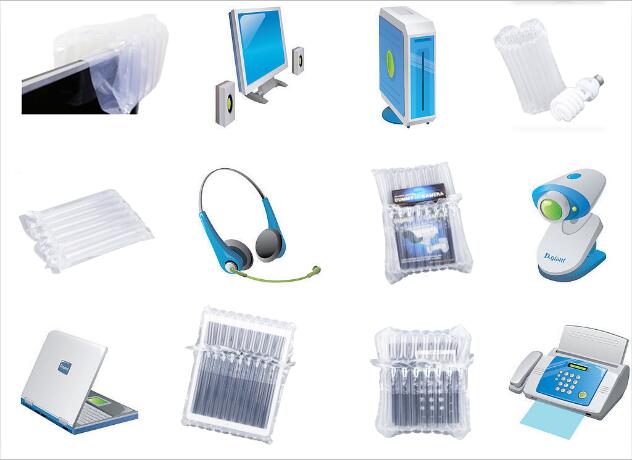 Air column bag is used with air to form natural cushioning effect, high quality PE + PA film, durable, high air tightness. Protection performance is more secure. An air column bag can withstand about 200 KG of weight. The basic materials tested by SGS do not contain any heavy metals. The combustion is non-toxic. It meets the requirements of air-tight, moisture-proof and environmental protection. It belongs to the seventh recycling standard and is the best choice to replace Poly, EPE and pulp in this century.
If use of air-column bag packaging can bring the following advantages to electronic products:
(1)Low cost,flat before inflate, not occupying warehouse
(2) Beautiful bag shape, in line with the electronic products "high appearance value" "
(3) 360 degree close fitting design,no model fee, all-round protection of products, can also be used for internal and external protection
(4) Air column bag and air filling bag can be used together, air filling bag can be filled the extra space around, double protection
(5) Air column bag support logo printing, color printing, improve enterprise identification, enhance enterprise visibility
(6) Automation inflatable equipment is complete,inflate and pack on the same time, packaging efficiency is improved, and human resources are saved.
If you wanna a free samples or design an air column cushion packaging solution for your product, please don't be shy to contact us, we will help your solve that!