Logistics service is a crucial link for an enterprise to win a place in the development of e-commerce and online shopping. For the logistics industry, speed and damage control are important factors for logistics companies to maintain competitiveness. Faster and safer delivery is also the performance of logistics companies to improve their services and enhance their profitability.
Sunshinepack's air cushion bags and air-filled bags have the advantages of convenient packaging, cost advantage, saving manpower and space. With the vigorous development of electricity business and the need to transport a large number of goods every day, Sunshinepack and logistics enterprises stand together to meet the new trends and challenges of business development.
That is to say, it saves packaging time, warehousing space and improves logistics speed
Sunshinepack's airbag and inflatable bag products do not need to be customized according to the size of the packaging box.such as foam board, tile plate, pulp moulding filling, and polyvinyl chloride material must customize according to the box, and cost a lots space. Air bags and air cushion bags have the characteristics of ready-to-use. They can be used after simple inflatable steps. Sunshinepack's tear-prone airbags and air cushion bags are more convenient for packaging and use, which saves a lot of time for logistics packaging. In the same time, packaging workers can pack more goods, improve packaging efficiency, and then have a positive impact on the speed of the entire logistics transportation.
Integrated inflatable device, occupying less space, improving space utilization
The CH, CLU, CLUQ series inflator packed of Sunshinepack is suitable for various types of inflatable bags and air column bags with small volume and small space occupation. The integrated one-in-one inflator can be installed in the most suitable place according to the needs of inflating operation. For a city with an inch of land and an inch of money, the utilization of space is also very important for the cost accounting of logistics enterprises. The inflator of Sunshinepack occupies less space. The same packing warehouse area can accommodate more workers and more goods, and improve the utilization rate of warehouse space of logistics enterprises.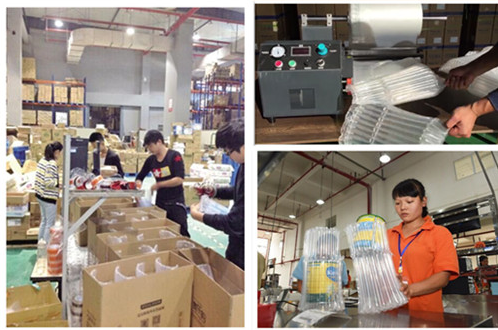 The automatic inflatable operation, saving human resources and improving packaging efficiency
The logistics industry is a labour-intensive industry. Human resource cost is one aspect. With the explosive freight demand in Shuang11, Black Friday, Christmas and the peak season of the New Year, logistics enterprises often face the dilemma of a labour shortage. Sunshinepack introduced tear-prone airbag in roll packaging, air cushion film packaging, filling packaging without tool tear after filling with air. In addition, Sunshinepack also provides a variety of models of automatic inflator with excellent inflatability. It is easy to operate, and one person can complete inflatable, filling, packaging and other packaging operations. The packaging efficiency can be significantly improved and labour can be saved by combining with tear-prone air column bag coils and air-filled bag coils. The inflator, air cushion bag and air-filled bag of Sunshinepack make logistics enterprises have higher processing capacity for goods to be transported.
Imported PA/PE, good quality, high toughness, excellent cushioning performance
For logistics enterprises, cargo damage will lead to compensation and complaints. It takes a lot of time to deal with this problem, and the quality of service affects the brand influence of logistics enterprises. How to prevent damage to goods at the starting point of transportation is a very important issue. Sunshinepack air cushion bags and filling bags adopt PA/PE co-extruded film produced by Amco to ensure quality. The inflated air column bag can maximum bear up to 1000 kg. Choosing air column bags with different thickness and width according to different commodities not only has cost-effectiveness but also reliably protects the product.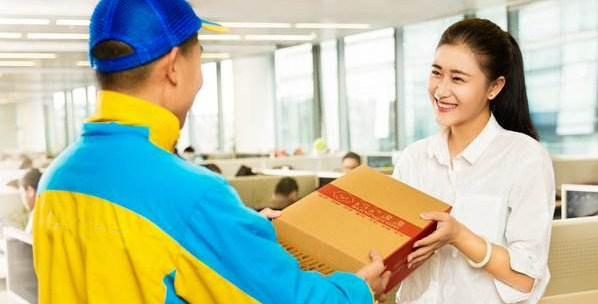 Wide range of applications, can be used for packaging or filling different products
The air column bag uses high strength PA/PE co-extrusion film to encapsulate the air. It has strong cushioning and protection performance. It is suitable for almost all fragile products which need cushioning protection and prevent scratching. Sunshinepack's air-column bags include L-bag, Q-bag, U-bag, sheet, air-column film, filling bag, air bubble film and other products. They can not only pack products in air-column bags, but also wrap products with air-column bag coil, and can also be used for filling gaps in cartons. At the same time, for special shape products, Sunshinepack can provide customized design, further expand the applicability and reliability of air-column bag products, to meet the diversified packaging needs of logistics enterprises.
Sunshinepack is always close to the e-commerce industry, providing customers with products with higher cost performance ratio at all times, and striving to save costs for enterprises. Whenever, Sunshinepack always focuses on packing materials and packing solutions, providing standardized, convenient and reliable packaging products and packaging solutions for e-commerce, devoting itself to improving enterprises and consumers. Product experience, we have been on the road of packaging with heart, emotion, wisdom and strength.