The emergence of e-commerce links people to people, things to things, and country to country. Based on big data, users and multi-platform cooperation, it connects consumers, businesses and retail venues through various network channels, and integrates online and offline. These are all new retail categories. Online and offline enterprises understand the real preferences of customers through the analysis and mining of large data, through business platforms, O2 O, physical stores and other channels to show, and then through graphics, video, film, television, VR and other Internet ways to connect customers, to meet the real needs of customers for goods or services. No matter what kind of product needs reliable packaging, so that it can be safely delivered to consumers.
Sunshinepack provides air cushioning packages such as air column bags and inflatable bags for the majority of e-commerce businesses. It is widely used in the transportation of electronic products, crafts, fragile glass and ceramics products, photo frames, fruits, mobile phones, hard disks and other products that need cushioning protection. Air cushioning packaging products such as air column bags and airbag have the following advantages:
Lay it flat before inflating, and the storage area is very smaller
Traditional packing materials, which have a fixed size, that will improve the space of packaging materials, but also not conducive to the use of packaging personnel. The emergence of air column bags and inflatable bags greatly improves the efficiency of space use. The air column bags and inflatable bags in cusp packing are in a flat state before inflatable. Particularly, the inflatable bags in the flat state can also be folded, which is very convenient and in line with the rapid and low-cost development of e-commerce at present.
Inflation is very simple, packaging efficiency is improved
If it is manual inflatable, customers only need to put the inflatable equipment into the inflatable mouth to inflate, as simple as inflatable a ball. If the use of automated inflatable equipment, in the face of an endless stream of orders, is not a problem, Sunshinepack has been committed to improving packaging efficiency, has been constantly innovating inflatable equipment. The former inflatable equipment is no longer suitable for the current environment. Sunshinepack always in the way to innovative. Several new inflatable machines are very simple to install (or even need not install). The inflatable can be started with only one button. For air cushion products such as airbag, inflatable bag, no matter manual or automatic inflating, it saves manpower and material resources compared with traditional paper packaging and foam packaging.
Air cushion, cheap but efficient
A small amount of PE/PA film is used as raw materials in air column bags and inflatable bags, and sufficient air is filled in the middle to provide cushioning packaging for products. Air is the most abundant resource in nature. In air column bags and inflatable bags, 99% of the components are air, which makes air cushioning packaging have considerable cost advantages. Savings in raw materials also mean lower costs, greener and more environmentally friendly.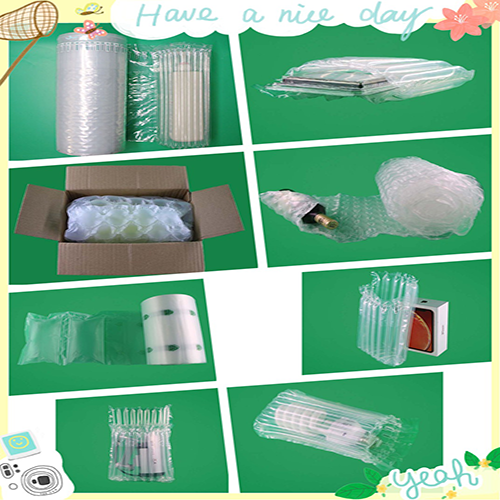 shinepack is always close to the e-commerce industry, providing customers with products with higher cost performance ratio at all times, and striving to save costs for enterprises. Whenever, Sunshinepack always focuses on packing materials and packing solutions, providing standardized, convenient and reliable packaging products and packaging solutions for e-commerce, devoting itself to improving enterprises and consumers. Product experience, we have been on the road of packaging with heart, emotion, wisdom and strength.